Archetypal femme-fatale famous for her husky German accent, vocal opposition to Nazism, and popularising the duct-tape facelift, Berlin's own Marlene Dietrich returns to the silver screen once more this Friday (9th December), for a night at the gorgeous Ehemaliges Stummfilmkino Delphi courtesy of the Berlin Film Society.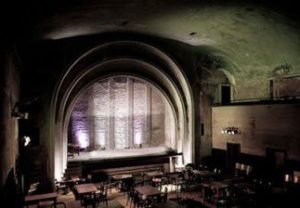 Directed by Billy Wilder, the 1948 romantic-comedy 'A Foreign Affair' tells the story of a US army captain in post-war Berlin, torn between a ex-Nazi cabaret singer (Dietrich) and the United States Congresswoman (Jean Arthur) tasked with investigating her.
The film was shot in and around Berlin, utilising what was left of the UFA film studios in Babelsberg, at that time within the Soviet Occupation Zone. Wilder made a number of trips to the former Nazi capital to assess the post-war situation on the ground, encountering Allied personell, and desperate residents struggling to reconstruct the ruined city. He would later tell the story of meeting a woman on the streets who was grateful the Allieds were planning of fixing the gas supply, saying: "I thought it was so she could have a hot meal, but she said it was so she could commit suicide."
Whether the story holds any water or not, we will never know. Certainly Wilder knew that comedy can play an indispensible role in tragic times. His tombstone bears the words, "I'm a writer, but then nobody's perfect."
Silent movie great Charlie Chaplin, embraced the formula of combining tragedy and comedy with great success before even acquiring the professional capacity to speak. Reportedly stating, with a dollop of theatrical finality, that: "…if you can't laugh in the face of tragedy, you'll go insane."
Both Wilder and Dietrich found their feet in the Berlin of the 1920s and the heyday of German silent cinema, Dietrich as a cabaret singer recruited by the director Josef von Sternberg to reprise her role on the screen for the movie Blue Angel, starring as a young temptress who seduces a school master. Wilder worked as a reporter and later screenwriter, getting his big break writing the screenplay for the 1931 film adaptation of Erich Kästner's novel, Emil and the Detectives.
As the horrors of National Socialism engulfed the European continent, both Dietrich and Wilder would join the long list of German exiles, alongside Bertolt Brecht, Thomas Mann and Lion Feuchtwanger, seeking sanctuary on the west coast of the United States.
In 1933, Blue Angel, the movie that had made Dietrich famous, was banned in Nazi Germany. Wilder's mother, grandmother and stepfather would all perish in the Holocaust.
A project like 'A Foreign Affair' so fresh after the end of World War Two, involving the German exile Dietrich and the Austrian-Jewish exile Wilder, was bound to attract attention, and court controversy in their native German speaking lands.
Dietrich had joined the Allied war effort, selling bonds and entertaining Allied troops in 1944 and '45, following the advancing forces from Algeria to Germany alongside Generals Gavin and George S. Patton. Wilder would later remark that she spent more time at the front lines than commander of Allied forces Dwight Eisenhower.
Both Dietrich and Wilder had previously collaborated to establish a trust to help European Jews escape Nazism in the 1930s, and in 1937, the actresses entire salary for Knight Without Armor was put aside to help the refugees.
The first German actress to be nominated for an Academy Award, Dietrich had initially been contracted by Paramount Pictures on arriving in the United States as an alternative to the Swedish Greta Garbo, but soon established herself as a box office success in her own right. Producing another six movies with director Joseph von Sternberg and attracting attention for her on-screen and off-screen antics.
Despite being married for over fifty years, Dietrich's list of extra-marital sexual conquests reads as a regular-who's-who of Hollywood – from John Wayne to James Stewart and even John F. Kennedy – at a time when women were portrayed as ornamental playthings in popular culture, Dietrich lived unbashed and unashamed of her sexuality. Known for her androgynous role and open bisexuality, the same-sex kiss whilst dressed in a full tuxedo in the 1930 movie Morocco, directed by Josef von Sternberg, still stands as one of her recognisable moments in film, one that surprisingly made it past the censors.
Concerned about the reception she would receive in her native Germany, it was not until 1960 that Dietrich returned for an extended concert tour, in both West Germany and East, performing as she did for much of her post-war career as a singer and cabaret artist. Dietrich was received in parts of the West German press and public as a traitor to the nation.
Her performances attracted huge crowds, in some instances shouting "Mariene Go Home", and two bomb threats, leading her to announce that "the Germans and I no longer speak the same language."
As the war in Europe came to an end in 1945, Dietrich had returned briefly to be united with her sister, Elisabeth, who operated a cinema in the city of Belsen often frequented by Nazi officers and officials who oversaw the Bergen-Belsen concentration camp. Marlene first sheltered her sister and husband from possible prosecution as Nazi collaboraters and later disowned them.
Like many of the German emigrees that left Europe in the 1930s, she struggled with her relationship to her native land and opposition to the crimes committed in its name.
As German resistance figher, Ruth Andreas-Friedrich would write in her diary in 1945: "I think, as so often: what an absurdity, for a German to pray for the enemies' victory! A strange patriotism that can wish for nothing better than the conquering of one's own country!"
–
Marlene Dietrich is buried in the Städischer Friedhof III in Berlin-Schoenberg, near the house she grew up in. A collection of her clothes and personal belongings, bought by the city of Berlin in 1993, makes up the core of the exhibition at the Filmmuseum Berlin.
More Information
FilmMuseum Berlin
Ehemaliges Stummfilmkino Delphi
Berlin Film Society