This week we caught up with Jim McDonough, one of the great private guides I work with, to talk about his experiences in Berlin: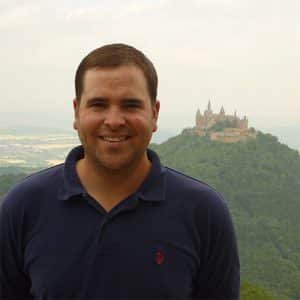 I hail from a small map dot in rural Minnesota where everybody knows everyone's name and where the apple doesn't fall far from the tree.
So I guess you could say that I was one of the odd ones to travel 100 miles north to the Twin Cities after high school where I attended the University of Minnesota, and then ended up making even a bigger leap to Berlin five years later to complete my studies in German History.
My goal had been to return to the U.S. to enroll into a PhD program and become a professor of Modern German History. But after spending an amazing and memorable year and a half as a full time student in Berlin – while meeting so many people from around the world from so many different walks of life with whom I could explore and embrace everything that Berlin had to offer – I felt the city starting to absorb me, then grow on me, and then I simply realized that I belonged in Berlin.
Q: What inspired you to become a guide?
I knew that I wanted to be a tour guide early on. When I made my way around the city with some of my core group of friends whom I had met within the first couple weeks of beginning classes at the Freie Universitaet and Humboldt University, I found myself spontaneously explaining the background behind certain sites in the city or providing historical context to certain areas due to the fact that I had learned about them or had been studying them at the time. I found myself really enjoying this and all too often one of my friends would say, "You should become a tour guide."
So I began to extensively research the city. I visited museums, read books, watched documentaries, spoke with locals, and fully committed myself to finding out as much as I possibly could about Berlin's past while also understanding its present. I continually took advantage of Berlin's outstanding public transport system to visit every corner and every district, made my way down to Potsdam where I also began researching, and basically fell back on my studies as a trained historian to learn as much as I could about Berlin and its surrounding area.
Eventually, a reputable, local company then hired me in the winter of 2007 and from that point onward, I've been a full time local tour guide ever since.
Q: Have many tours have you led?
I'd say I've done over two thousand tours or more.
Q: Which tours do you specialise in?
The Berlin Highlights tour is the tour I've given the most over the years. Yet, since my university studies concentrated on the National Socialist period, I particularly specialize in Third Reich tours as it is the tour that I enjoy doing the most. Over the years, I've also branched out and spent a lot of time in Potsdam researching the city, studying Prussian history and the House of Hohenzollern, and I've been leading tours there on a regular basis since 2010. Furthermore, I've been a licensed guide at the Cecilienhof Palace (where Stalin, Truman, and Churchill – and later Attlee – sat down and negotiated the fate of the post-WWII world in the summer of 1945) since 2015.
Q: Can you remember your first tour?
When I think back and reflect on all the tours I've given over the years, the first tour is the one that stands out the most.
It was a balmy Saturday morning in the winter and around 35 people had turned up for a 4 hour main sites tour of Berlin.
I was scared to death.
In the past, I could comfortably sit isolated at my computer writing a five page paper on some topic of German history to demonstrate to my professors that I understood the topic of whatever we'd been learning in class, or I could comfortably and causally tell my friends about the history of certain sites as we explored Berlin together. Being an actual tour guide was something entirely different. For the first time in my life I was being put on center stage – with 35 pairs of eyes staring at me – to explain Berlin's history and give the lay of the land to 35 strangers who were expecting a high quality tour. I knew that I knew the history, but the swarm of butterflies I had in my stomach and the profuse sweating (yes it was winter!) over four hours made this one of the most uncomfortable experiences in my life.
In the end, I got through it (although, today there are 35 people on this earth who think that equestrian statue on Unter den Linden is Fredrich Wilhelm II – not Frederick the Great). And now eleven years later, I just chuckle every time I think back on that 'tragic' day because I honestly felt that I didn't think I was going to last long as a tour guide in the weeks thereafter.
Q: Can you recall a particularly memorable experience from your tours?
What keeps me going after all these years is when I get that occasional group who's engaged, inquisitive, and clearly shows that they are thoroughly enjoying exploring Berlin. Each time this happens, I tend to draw so much extra energy from the tour itself and I'm quickly reminded how much I love enhancing a visitor's experience in Berlin.
Several years ago, I did a private Third Reich tour for a family of four from England. The parents had brought their son and daughter to Berlin for a long weekend and wanted to have an educational tour since the daughter was about to take a large exam on the Nazis' rise to power as part of the completion of her A-levels. A few months after our tour, I received an email – which had been forwarded to me by the office of the company for which I was working at that time – from the father of the daughter informing me that her daughter scored very well on her test and was convinced that my tour – as well all of the questions I'd answered for her – played a large role in her doing so well on her exam. He then went on to say that she was also seriously considering studying German History when she got to university, based a lot on how my tour had inspired her to keep reading and learning more and more about the subject. I was truly flattered and I'd have to say that this was one of the most memorable experiences out of all the tours I've given.
Q: If you were to visit Berlin again for the first time what three things would you want to experience again for the first time?
If I were visiting Berlin again for the first time, I'd first take a boat trip on the Spree River. Each time I do this, I'm absolutely blown away by Berlin's impressive and creative modern architecture that has been the product of the city's massive building boom that got underway in the mid 1990s. Indeed, one can easily appreciate this architecture by simply walking through the city, but traveling through the heart of Berlin by boat offers a whole different perspective than what you can fully embrace on land. In other words, do a boat tour while you're here!
The second thing I'd do is make my way to the top of the Berliner Dom. Completed in 1905, it is one of the last remaining bastions of the House of Hohenzollern, the former ruling royal family that reigned over the Kingdom of Prussia until 1918. Unfortunately, much of the church was severely damaged during WWII so it's gone through a few different reconstruction phases over the years. Today the church has a beautifully and sumptuously designed interior and offers visitors a spectacular bird's eye view of the city from the base of its dome.
Finally, I'd be more adventurous and explore areas on the outskirts of Berlin. The city has a gigantic area of 345 square miles (890 square kilometers) and every corner of the city can essentially be reached by taking advantage of Berlin's efficient public transportation network as well. One of my favorite places to 'escape to' during a busy work week is Altstadt Köpenick. This historic area, which used to be an independent municipality until 1920, is located around 10 miles (16 KM) east of the city center and much of it escaped major damage during WWII. Charming architecture – including a 16th century palace situated above the Dahme River – and the area's narrow, cobble stoned streets – are home to some fantastic traditional German restaurants and cafes, making this one of the loveliest areas in all of Berlin.
Q: Do you have a particular book or movie about Berlin that you like to recommend to clients? Why?
Since a large majority of people I take on my tours are interested in the city's Cold War history and the Nazi period, I always recommend the book Stasi Land by Anne Funder and the 2004 German film, Downfall (Der Untergang). Funder's book is a fantastic page-turner that explores the surveillance of the East German state and how it ran, controlled and manipulated its citizens through its internal army, the East German Ministry for State Security (Stasi). And Downfall is a highly compelling film that chronicles and examines the last 12 days of WWII during the Battle of Berlin, as it particularly focuses in on Hitler's final days in the Führer Bunker.
Q: What advice would you give a new guide?
Berlin is one of the most historical cities in the world with a very complex past. I think it's important that new guides are sensitive to this and understand their audience on each individual tour. There are times when you can go into great detail with your guests, and there are other times that you need to keep things simple while still explaining the city's history accurately and professionally.
Q: What's your favourite Berlin recommendation for travellers with young children?
If travelers come to Berlin with small children, I always recommend taking a summer boat ride on the Spree or even more interesting, seeing the city from above. My three year old twins love going to the top of the TV tower on Alexanderplatz, or taking the fastest elevator in Europe (25 stories in 20 seconds) to the top of the Kollhoff Tower on Potsdamer Platz. Both places offer spectacular 365 degree views of the city which is enjoyable and entertaining for all ages.
What do you do when you take a break from guiding?
As is the case for most guides in Berlin, the summer months are my busiest time of the year. On the real hot summer days, I really enjoy escaping to one of Berlin's several freshwater lakes to unwind after a tour. Krumme Lanke in the southwest part of the city or the Mueggelsee in Friedrichshagen (in the eastern part of the city) are two of my favorite lakes to visit during the summer months. Krumme Lanke is mostly isolated in what seems like the middle of a forest where you can choose a quiet and remote spot to occupy next to the water. The Mueggelsee does have some quiet spots because of its size, bit it also has a couple of beaches where you can relax among other swimmers and buy food and drinks at concession stands. Either way, spending time at one of these two lakes is always physically and mentally soothing and both of them quickly recharge my battery after a long day of tour guiding.
Q: What is your favourite place for a day trip from Berlin?
My favorite place for a day trip from Berlin is taking a two hour train ride south to the city of Dresden. This historic city perched above the Elbe River was the former capital of the Kingdom of Saxony. Its rulers built magnificent buildings and turned the city into an architectural and artist beauty, molding it into a city of international importance from the beginning of the 18th century onward. Unfortunately, the cruel realities of the the 20th century history intervened in 1945 when Allied bombs wiped away around 90% of the historic city center. Yet, Dresden has gone through several different phases of reconstruction since then – mostly occurring in the last twenty-five years – and much of its impressive pre-war architecture has been meticulously brought back to life, fooling most visitors into thinking that the city went untouched during WWII. This lovely city is the home of a few of the most renown museums in the world, and it's a place where art, history and culture flourish today.
–
Jim McDonough is just one of the many great Berlin guides I have come to work with and trust with clients over the years – as with many of the best guides in the city he is a member of the Berlin Guides Association.