Matt
Originally from England, Matt founded Berlin Experiences after guiding & working as a journalist in Berlin for over a decade. His attention fixed on 20th century German history, specifically the Third Reich and Cold War chapters, he is a registered guide at the Sachsenhausen concentration camp memorial and also sometimes works as a historical consultant at the Stasi Museum.
Alexander
Born and raised in Canada, Alexander arrived in Germany in 2008 as first tenor saxophone playing of a big band - later taking up residence in Berlin where he has worked as a journalist and translator for one of Europe's largest publishing houses. Alexander's tours focus on providing a broad spectrum perspective on the continuum of Berlin's turbulent history.
See Alexander's private guide profile
Jim
Jim has been guiding in Berlin, Potsdam and Dresden for just over a decade since arriving in Berlin from the University of Minnesota in 2005 to study German History and use the research facilities at the Humboldt University and Free University of Berlin. His deep knowledge and easy going Midwest manner make all of his tours an enjoyable experience.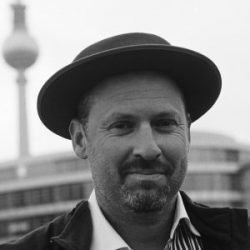 Asaf
Asaf started guiding in Berlin in 2010. He has been working and researching in the tourism world for more than 20 years. He is a registered guide at the Sachsenhausen concentration camp memorial. Asaf is a PhD candidate at the Institute of Dark Tourism Research, exploring how tour guides interpret the dark chapters of Berlin's history.
Heather
Heather, a dual American and German citizen, has been a Berlin guide for 13 years. She has a Bachelor's in History and Jewish Studies from Penn State University and a Master's in Modern German History from Brown University. She was passionate about Germany's past from a young age, and feels privileged to be able to share that passion now.
Sam
Sam is a writer and journalist who has been guiding in Berlin for around half a decade. His focus lies predominantly in modern German history – unification through reunification – and more contemporary areas, such as Berlin's craft beer scene. In his spare time, he's writing/staring out of his window pretending to write or escaping the city on hiking adventures.
William
William has been guiding in Berlin for more than 6 years, but originally comes from Sydney, Australia, where he was raised bi-lingually by his German father. He guides the full repertoire of classic tours (including Sachsenhausen and Potsdam) but especially loves to share insights into Berlin's contemporary culture through stories of the city's gastronomy & street art scenes.
Bryan
Bryan has been working as a guide and research assistant for nearly 10 years. Having studied German/European history in New York and Berlin, he specialises in 20th-century history -particularly the Holocaust and Jewish history. He has spent considerable time studying and working on this subject across Central and Eastern Europe.
See Bryan's private guide profile