Berlin Graffiti & Street Art Tour:
Writing on the Walls
"He who wants the world to remain as it is,
doesn't want it to remain at all"
Spraypainted on the Berlin Wall
---
To the uninitiated, the sheer quantity of street art and graffiti in Berlin can be unsettling and overwhelming. It's an odd mixture of truly inspired social commentary and random vandalism – so ubiquitous that its mere presence says little to nothing about the safety of any given neighbourhood.
Unfortunately, the rapid gentrification of Berlin has meant the destruction and loss of many classic pieces for which the city was famous. Nonetheless, there are still many hidden gems to be discovered, and many more cropping up each day.
A can of paint is worth a thousand words. Be sure to bring your camera!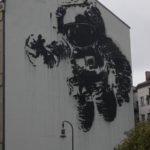 Suggested Private Tour Sights
We like to keep our fingers on the pulse, which means the spots for our culture tours can change as quickly as the city does.  We are more than happy to discuss with you what exactly that entails, feel free to send a quick email (info@berlinexperiences.com) or contact us via our booking form (here) and we can discuss the specifics further.
Booking
For information on tour prices, check our (FAQ section).
We ask that you enquire about bookings seven days in advance, so as to allow ample time to tailor your request to your personal wishes. We are, however, also available for last minute bookings – if uncertain, please do ask.
Bookings can be made using our booking form (here). We will reply within 24 hours and present an offer based on your preferences.
Payment
In some instances payment can be made in cash at the end of the tour directly to the guide. Payment in advance can be made by secure bank transfer/credit card/PayPal. Tours booked within ten days of the date of the tour must be paid in advance. (See our FAQ section for more details)
- Three Hours

- Walking Tour

- Designed for up to five people
(prices vary according to group size)

- Includes time for coffee break
- Fully insured
- Available in other currencies (ask for accurate rate)
- No hidden fees
- Three Hours

- Includes transportation (Car or Van)

- Designed for up to five people
(prices vary according to group size)

- Includes time for coffee break

- Fully insured
- Available in other currencies (ask for accurate rate)
- No hidden fees